It's that time of the year again, the festive spirit is at an all-time high and getting together with friends, colleagues and family is what it's all about. Whether it's a Christmas party, the last day of work before the holiday or the kids' last day at school, now is the time for some Christmas-themed activities. Why not play a wonderful game of Christmas bingo?
How to play Christmas picture bingo for kids
Let's focus on the kids for a second! Children love this time of the year, playing games, having fun, and taking in all that Christmas has to offer! We've got the perfect bingo cards for your young elves. Simply download these festive picture bingo cards and let them get daubing and partying alongside the seasoned adults.
Check out and download the cards below!
Step 1. Organise yours-elves
Make sure everyone is equipped with a dauber or pen and a ticket. These are the only items needed to play this game so it will be quick and easy to set up and play before your party.

Step 2. Spotting Santa
Once you all have tickets and daubers it's time to play! Use the calling sheet and a random number generator to call out the pictures. The aim is to complete a pattern, chosen before the game starts – remember Santa in the middle is a free space so you can cross him off straight away!

Step 3. Present time!
When your young ones have completed the pattern they can call out 'Jingle Bells' to claim the prize! We've designed some fun patterns for you to try, check them out below! Or, let the kids design some patterns before the game starts.

Downloadable Christmas picture bingo game
For the little ones, why not try our fun game of picture bingo? We've put everything you'll need to keep the kids occupied this Christmas into one free download pack. This includes 30 picture bingo tickets, an easy-to-follow rules sheet and callers cheat sheet for the parent or teacher!
Free printable Christmas Bingo Cards & Bingo Calls
To keep in the Yuletide mood, think about using the themed bingo tickets below that you can print off. This way, there's no preparation in generating your own tickets and you can have tickets that will get the whole family in the mood for some Christmas celebrations.
When it comes to bingo calls, there are the traditional ones that you'll be familiar with from regular bingo games, but this is a Noel bingo event so you should try and make your calls festive too, so you'll all be rocking around the Christmas tree!
We've put together a list of rocking Christmas calls as a guide, but feel free to make up your own! The more the merrier. Check out our Christmas bingo calls cheat sheet to use to amp up the holiday spirit of your bingo night.
We've put together some decorative tickets for you to download and print off, so why not check them out and get daubing on a Nativity ticket? Follow the article to discover our extra festive 90-ball bingo tickets and calls.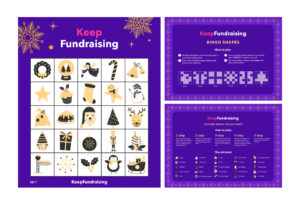 How to play Christmas 90-ball bingo
Playing 90-ball bingo is simple and easy, and doesn't take long to set up! For full details on how to set up the game check out our guide on how to host a bingo night! But remember, this game doesn't just have to be online, you can play it with your friends in the same room too.
You can get your game together in 4 quick steps.
1. Gather your angels
Bring your reindeer and elves down from the North Pole for a night of celebration and joyful spirit! Whether you play the game virtually over Zoom or decide to play as a part of a Christmas party with work colleagues, friends or family, everyone will find it easy to take part and follow the game. Bingo is one of the oldest and easiest to play pastimes in the UK, so people of all ages can get involved with the fun without needing to explain any rules.

2. Unwrap your tickets
Remember, this is a Christmas bingo night, so to add an extra layer of tinsel and glitter you might want your bingo cards to be themed. Think baubles and snowflakes, gingerbread men and snowmen, scattered around the card. These symbols could even take the place of some of your blank squares!
You could craft your own cards as a part of the fun, by using an online bingo card generator to get the randomised numbers and get to work decorating. Just want to get dabbing? Download our beautifully themed Christmas bingo cards further down this page!

3. Time to get the snowball rolling
Using a random number generator or a bingo calling app, have someone shout out the numbers to the players! Remember to mark off your own numbers if you are the one calling.
To make this more of a party activity, you can have some Christmas songs or questions between number calls. This would be especially fun for little elves!

4. Winner winner, Christmas dinner!
There are usually 3 winners in a game of bingo! The first person to mark off all the numbers in a line wins the first prize, which is usually the smallest. The first person to fill in two lines wins the second prize, and finally, the first person to mark off all their numbers and call BINGO is the big winner!
What you decide to give out as a prize is up to you. If you're playing bingo for charity, you can offer a portion of your donations as a prize. However, you could just as easily all chip in on a bottle of wine or a pizza voucher!

Downloadable Christmas bingo tickets
We've created 30 themed bingo tickets and a calling sheet, complete with festive variations on the traditional bingo calls. Download for free below!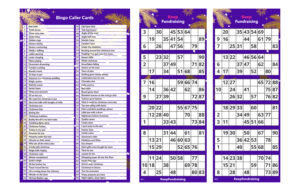 Make your game festive
As this is a super-special Christmas-themed game of bingo, you want to make sure your game is full of jolly, holly, holiday fun! We have created the perfect Christmas playlist for you and the whole family to enjoy! Check it out below, press play and enjoy!